Kooky Klicker Pens

KOOKY KLICKER PENS, PLUSH & BEAN BAGS









Kooky Klicker pens are super popular and quickly becoming highly collectible. You can collect and trade your favorite Kooky pens. These are hand-painted, high quality pens made of plastic, rubber with metal clip and ink cartridge. Each with a different personality and name. The name and number are located on the back of the pen. These pens are refillable. Size: 5" tall, 1" wide.

Now available in addition to the pens are Kooky Bean Bags & Plush. Just like their Pen counterpart these new Plush are high quality, super soft & selling quickly.

We have listed below all the Kooky products we have in stock. You may also browse our categories (Plush, Sets or Individuals) to simplify your search.


Get the latest information on new Kookys as we get them in. Join our mailing list today!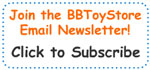 Choose a sub category:
My Account
Login to account Create account